Can You Tell Me How to Get to Sesame Street?
Written by Eleanor Hudson 1997 Random House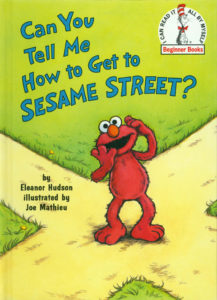 It's up, up, and away for Elmo! Follow the fun as Elmo's high-flying kite takes him from the park to adventures in the deepest darkest jungle to the muckiest swamp to clearing up to Mars as he tries to find his way back home to Sesame Street.  GOOD READS
This book was written and illustrated before the days of computer art, and at an earlier time when I drew Elmo a little differently than later, but I enjoy the loose, energetic line and the nice watercolor work. The story is skillfully written in a nice "Beginner Book" rhyme.
Can You Tell Me How to Get to Sesame Street? Pages