Books About Big Bird
One of the first times I visited the Muppet workshop I saw Muppet builder Kermit Love building several Big Bird heads! What magic! And Carroll Spinney, who performed Big Bird with such amazing artistry, was always so nice to everyone who visited the set, including my own kids! I always loved Big Bird!
Big Bird was always wonderful to use in book illustrations because he was so large and his bright yellow feathers provided such contrast to the earthy, maybe even drab colors of the inner city landscape that was Sesame Street. His size also created layout problems for the illustrators, but he was a big, wonderful child, and books about him are among the best and most fun.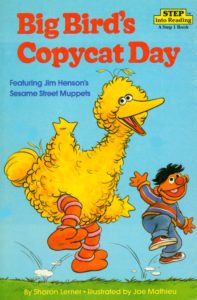 Big Bird is at his silly best in this charming book written by Sharon Lerner. Big Bird runs around Sesame Street copying all his friends until he is just tuckered out and says, "Good Night"!