The Messy Alphabet Book!
written by Erin Guendelsberger 2017 Sourcebooks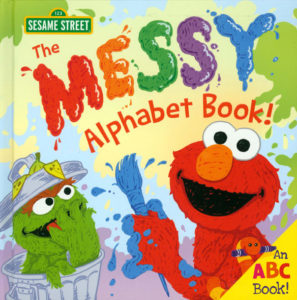 This book is for any child who has ever been told to "stop making a mess." In other words, children everywhere will love this book! Join Elmo and his Sesame Street friends as they splat, splash, crash, and dash their way through the alphabet! -Google Books

"You know, it seems like every alphabet book I read is full of nice, clean things like cute kittens, cuddly puppies, and shiny new toys. That's why I love Sesame Street's Messy Alphabet Book! It doesn't have any of those things." ―Oscar the Grouch
Oscar the Grouch makes everyone promise to make as big a mess as possible if they want to be in his book. And they don't disappoint him!
The Messy Alphabet Book! Pages