Sesame Street Lift-and-Peek Party!
Illustrated by Joe Mathieu 1998 Random House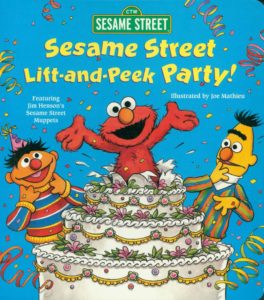 The many characters of Sesame Street are enjoying a party and little hands are invited to lift flaps and search for party items such as a party horn, ice cream sundae, pin+a1ata, and more. -BOOK DEPOSITORY
We published several oversized lift-and-peek board books which got more clever and sophisticated with each one. This was the best one, in my opinion. I designed the door and window flaps, so there wasn't really a manuscript; it was just a matter of coming up with ideas that would work as flaps and lead the reader through the book. This wasn't as easy as it sounds, but I really had fun with it.
Sesame Street Lift-and-Peek Party! Street Pages