Big Block Part!
written by Deborah November  2006 Reader's Digest Children's Books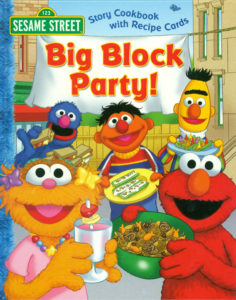 When they are finished reading the story, young cooks can use the included recipe cards to make all the healthy snacks that their Sesame friends made in the book such as Tutu Pink smoothies, delicious cups of dirt and Tasty Twiddlebug Logs. All recipes are simple and safe for kids to make with parental supervision.  -AMAZON
The Sesame Street Muppets learn how to prepare healthy, nutritious snacks for their big block party!